Bob Richards Auto Gets All Charged Up For The New Nissan LEAF!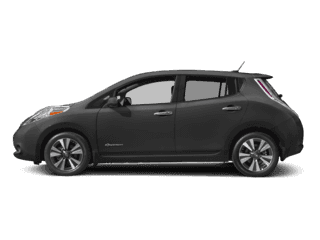 Over our years in this business the Bob Richards team have seen countless new models come and go, and countless launch presentations – yet our passion for cars means we still get a frisson of enthusiasm whenever an automaker introduces us to their latest and greatest creation. The situation was no different a few days ago as we huddled around our monitors way past closing time, and tuned in to Nissan's live streamed unveiling of the new 2018 LEAF. By the time the presentation was over however, that familiar frisson had turned to full blown excitement, and the realization that we may well have just seen a glimpse of the future. (And not just because the launch occurred on what was for us, the morning of the day after we saw it…)
Nissan's current slogan is 'Innovation That Excites', and they certainly hit the mark with the second-generation LEAF, packing it full of technology and features that are either uprated from the first-generation, weren't present in that car or – in some cases – are exclusive to the 2018 LEAF. The transformation is much more than skin-deep, but the body sets a great tone for the rest of the vehicle so let's start there. In terms of shape and styling it's as if LEAF has 'grown up' somewhat – gone is the 'love it or hate it' egg-like look, in favor of something much more mainstream that's also more in keeping with the rest of the Nissan range – and yet you can still tell that there's something unconventional about the car thanks to touches such as the translucent blue grille, and other design elements you'll only find on the new LEAF.
Design elements such as the 'Zero Emission' badging proudly displayed on the front doors and rear hatch, highlighting LEAF's key mechanical difference when compared to most other vehicles. The 100% electric motor that powers the new car is a clear and sound improvement over the first LEAF's power plant, offering 40 more horsepower, almost 50 lb-ft. more torque and perhaps most importantly, even with the improved torque, power and driver assists (which we'll get to shortly), the 40Kwh batteries will give you 150 miles of driving from a full charge – 40% more range than the outgoing model. The handling characteristics have also been tweaked for the better thanks to the squat stylings of the bodywork – not just an aesthetic choice, the new design also gives the 2018 LEAF a lower center of gravity, and combined with the slightly wider track of the rear wheels makes for a smoother and more stable ride all-round.
However, that extra stability is just one element of the new LEAF's array of measures designed to make this car safer on the road, easier to operate, and driving less stressful in general. Firstly, LEAF comes equipped with a suite of driver assists such as Intelligent Forward Emergency Braking & Pedestrian Detection, Intelligent Lane Departure Prevention, Blind-Spot Warning and Rear Cross-Traffic Alert – to name but a few of the features that make use of LEAF's 4 omni-directional cameras and 12 sensors. Also present is Nissan's 'ProPILOT Assist' intelligent cruise control system that has already been seen on some Nissan vehicles in Japan, and whose inclusion has been very well received there. ProPILOT Assist can cruise at a speed set by the driver, keep pace with the vehicle ahead, close up at slower speeds and even come to a complete stop if needed. It's not a fully autonomous system, so ProPILOT Assist does require you to watch the road and hold the steering wheel as you normally would – however, it will keep you at a safe distance and keep you in your lane – both on straights and when the road curves – allowing for less stressful and less physically demanding freeway driving by making it possible to cruise with both feet off the pedals and a loose grip on the wheel.
Assuming, that is, that you're using two pedals – something that's not necessarily a given thanks to the new Nissan LEAF's 'e-pedal'. Engaged at the push of a button, e-pedal mode allows you to make acceleration and deceleration inputs using only the accelerator pedal, giving you command of go, slow, stop and stay all with one foot, depending on how you use the e-pedal. Pressing down accelerates as you would expect, but then things get a little different – if you ease up on the e-pedal, LEAF will decrease its speed, and releasing it entirely will see the car slow to a complete stop. Even better, when engaged, e-pedal will also keep LEAF from rolling when stationary on upward and downward gradients.
As is expected of modern vehicles, the electronic wizardry goes beyond ease-of-use and safety concerns. The cabin, which has been designed to be a sanctuary away from the hustle and bustle of the outside world – and which again benefits from front aerodynamics aimed at eliminating wind noise – also gets its fair share of tech. Probably the most noticeable of these features will be the fully customizable instrument panel, allowing you to decide what information is displayed and where according to your own taste and preferences – but there's also a 7-inch 'floating' information screen as standard, while GPS Navigation, Bluetooth connectivity, Apple Carplay and Android Auto support are also available. And while we're on the subject of phones, don't forget about the NissanConnect EV app, which allows you to monitor battery levels and charge your LEAF remotely, find charging points when you're out and about, lock and unlock the vehicle, and more!
The 2018 Nissan LEAF should be arriving in the U.S. early next year, at a cost of around $30,000 to $36,000 (or lower, if you factor in the applicable federal tax credits) – but if you're as excited as we are then the good news is that Nissan's online information resources and car builder have already gone live, so you can further whet your appetite there, and choose which of the three trim levels (S, SV or SL), three interior options and eight exterior colors are right for you. You can also reserve a 2018 LEAF online, and if you do so now you'll receive an exclusive gift from Nissan!*