Salute To Service – Brig. Gen. Robert Lee Scott, Jr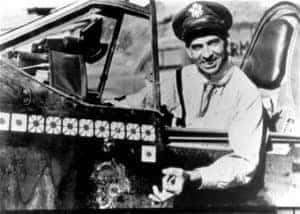 This week's salute to service takes to the skies of WW2 to celebrate the life of a man that was able to not only make his boyhood dream a reality and serve his country at the same time, but was also able to make that dream a lifelong experience, and leave a mark that goes way beyond military service – so join with us now as the Bob Richards Blog celebrates the life of Brigadier General Robert Lee Scott, Jr.
Scott grew up in the Macon / Warner Robins, GA area and indeed lived a considerable portion of his life there, but he was born not far south of Augusta, in Waynesboro, GA in 1908. From a very early age he knew he wanted to fly, and specifically wanted to be a pilot, despite witnessing the fatal crash of aviation pioneer Eugene Ely as a small boy in 1911. Scott would take his first steps to realizing his dream when he joined the military, first attending West Point from 1928 to 1932, and then successfully completing his pilot training at Kelly Field near San Antonio in 1933. He married Catherine Rix Green in 1934, and together they moved to Long Island – where Scott would be based for his first posting – assigned as he was to fly the 'Hell Stretch' airmail route from Newark to Cleveland.
The airmail runs helped Scott gain experience and hone himself into a skilled pilot, and After a stint in Panama commanding a 'pursuit squadron' (a formation later referred to as a 'fighter squadron'), he was instructing pilots at the Cal-aero flying school when the U.S. entered WW2. Then in his mid-30's, his superiors initially thought him too old for combat duty with the USAAF, but Scott desperately wanted to be in a position where he would face the enemy regularly, and continued to actively pursue such a role in spite of the misgivings of those further up the chain of command. His first break was assignment to Task Force Aquila, a group put together to carry out covert bombing raids on Japan from airfields in China. Unfortunately, the mission was abandoned before operations could begin, as Chinese ground forces were unable to take and hold airfields that would put Japan within range of Task Force Aquila's B-17's. Scott therefore found himself marooned in Asia for a time in early 1942, eventually joining up with the Assam-Burma-China Ferry Command, whose job it was to keep Chiang Kai-shek and the Kuomintang supplied, as well as other forces opposing Japanese expansion in Asia.
One of these 'other forces' was the 1st American Volunteer Group, better known as the 'Flying Tigers'. Scott and Flying Tigers leader Claire Lee Chennault became friends thanks to these supply flights and Scott gradually began to fly with them on missions – finally getting his chance to take on the enemy in combat. At Chiang Kai-shek's own request, Scott took control of a portion of the Flying Tigers' equipment when the formation was absorbed into the USAAF in July 1942. Though few Flying Tiger pilots chose to join the military alongside their planes, over the next sixteen months he would fly nearly 400 missions in command of what was now known as 23rd Fighter Group, shooting down thirteen Japanese aircraft and thereby becoming a fighter ace. In fact, with 'ace' status earned after five victories and Scott having more than ten, he is one of a select group of pilots to become a 'double ace' – further highlighting his skill in the cockpit.
Scott's success in Asia had been noticed by USAAF officials back in America, and in late 1943 he was transferred to a position at the Army Air Force School of Applied Tactics, however he returned to the Far East in 1944 to fly fighters equipped with experimental rockets against Japanese train and ship-borne transports, ending the war based on the Japanese island of Okinawa. By that time Scott was also an author, and had gained a certain measure of fame – his memoirs, entitled 'God Is my Co-Pilot', were written, published, and made into a film starring Dennis Morgan all before the end of the war, and he would go on to write at least eleven more books in his lifetime.
He retired from the military in 1957 as a Brigadier General, following a string of post-war command and staff positions. A man of action and adventure throughout his life to that point, Scott wasn't one to let retirement or advancing age slow him down at all. In addition to his writing projects he found time to hike the length of the Great Wall of China in 1980, covering a distance of some 1900 miles on foot when he was over 70 years old, and in his late 80's Scott participated in the 1996 Olympic torch relay – safely transporting the Olympic flame along a stretch of Georgia State Highway 247 as it neared its destination in the host city of Atlanta. Brigadier General Scott also found his way back into the sky, as amazingly, a man who once watched flying machines of linen and wood took the reins of two modern jet fighters – flying an F-16 Fighting Falcon in 1984, an F-15 Eagle in 1985, and flying in a B-1B Lancer on his 89th birthday in 1997.
Scott has also left a considerable legacy in his home state of Georgia. Not only have his life, times and deeds been forever recorded on page and screen, he also played a part in the establishment and opening of the Museum of Aviation and the Georgia Aviation Hall of Fame – both located at Robins Air Force Base outside Warner Robins. Fittingly, he was an inaugural inductee to the Hall of Fame, while a replica of the P-40N Warhawk he flew in Asia can be seen as the centerpiece of the museum's own tribute to an incredible American aviator. Brigadier General Robert Lee Scott Jr. sadly passed away in 2006 at the age of 97, and was laid to rest in Arlington National Cemetery with full military honors – however, he will surely be long remembered by the people of his home state of Georgia, and the country that he served so well.