Salute to Service: Major Archibald Butt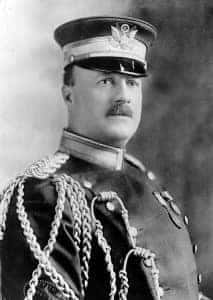 Salute to service this week takes us back more than 100 years, to a man whose life was dedicated to service and the call of duty, however those things presented themselves. Throughout the course of his life he found ways to serve his home town of Augusta and the people of cities dotted all over the south, his country (both at home and abroad), and even perfect strangers who fate threw together one cold April night.
Archibald Willingham DeGraffenreid Clarendon Butt was born in Augusta on September 26, 1865, one of five siblings born to his mother, Pamela, and father Joshua Willingham Butt – who would sadly pass away when Archibald was 14. As a result, Butt was forced to give up his education for a time in order to provide for his mother, sister and younger brother. He did however find a way back to academia thanks to Rev. Edwin G. Weed, who helped finance his studies at the University of the South in Sewanee, TN. His mother worked in the institution's library and harbored ambitions that her son might become a man of the cloth – however Butt himself was more inclined towards journalism, becoming editor of the college newspaper and taking postgraduate courses in Greek and Latin following his graduation in 1888.
A trip to Louisville to meet with an old college friend after his studies were finished turned into a three year stay and the start of his career as a journalist, as Butt earned a position as a reporter with the Louisville Courier-Journal while in the city, and just four years later had risen to be based in the nation's capital, covering national affairs for a number of southern newspapers – the Augusta Chronicle among them. While in Washington he became known and acquainted with many influential figures of the day, including Senator Matt Ransom, who offered Butt a position on his staff when he was appointed as the U.S. ambassador to Mexico. Butt accepted, and for the next two years served his country from south of the border as the embassy's First Secretary – continuing his writing career by composing magazine articles, and even penning novels whilst on the embassy staff.
Despite Archibald and his siblings being descendants of a grandfather and great-grandfather who had served America in the Revolutionary War, and one of their uncles being a Civil War general, none of them had chosen to be a soldier. Butt changed all that when he joined the United States Volunteers following the outbreak of the Spanish-American War in 1898. As would any young officer in his position Butt wanted to get to where the action was, but the best he could do given his role as a Quartermaster was the accompaniment of 500 mules to Hawaii. Incredibly, even in that task he managed to distinguish himself, disobeying orders and risking court martial by refusing to offload the animals (which were Army property, don't forget) when he saw the conditions in which they were to be housed, and as a result they all sailed on with him to the Philippines. The initiative and judgment he showed on arrival in Hawaii, as well as the extra effort and skill on display in ensuring that all 500 mules survived the lengthened trip would be noted by his connections in Washington, while Butt himself would later write several documents on animal husbandry.
Discharged from the Volunteers in 1901 when he was granted a commission as a captain in the 'regular' Army, Butt was first based in the Philippines before being posted back to Washington in 1904. An uprising in Cuba in 1906 called for his swift redeployment to that country whereupon Butt set up a supply base in Havana in only a few days, remaining there as Depot Quartermaster until 1908 when again he returned to Washington. The next phase of his career began that year when Butt joined the White House staff as president Theodore Roosevelt's military aide. Furthermore, it's said that one of the reasons he was offered the job was the work he did in the Philippines, which Roosevelt witnessed in person.
He retained the role for president Taft's first term, becoming known as a skilled negotiator and the man Taft went to when deals needed to be made, or for federal budgetary matters. Butt became a Major in 1911, but after four years of relative stability political ambition and personal bad feeling would come into play as Taft's first term came to a close. Roosevelt and Taft had fallen out during the years that Taft was in office, and now Roosevelt was planning to run against him in the 1912 presidential election. Having befriended and served both men this weighed heavily on Butt, causing him to develop signs of depression and exhaustion. As a result, he was placed on leave at the request of his friend and housemate Francis Davis Millet, and essentially ordered to go on a much-needed vacation. Millet would accompany him on a six-week trip to Europe during late spring, the itinerary for which would see them take in England, France and the Italian peninsula, with their only official business being the delivery of a letter the President had written to Pope Pious X. When the time came to return to America on April 10, Butt and Millet began their voyages from the ports of Southampton and Cherbourg respectively, as first-class passengers aboard the White Star Line's latest Vessel – RMS Titanic.
Little is known about Butt's actions aboard Titanic prior to the fateful night of April 14, and even reports from that night are difficult to piece together, but the elements most often seen are that Butt had dined in the company of ship's captain E.J. Smith earlier that evening, and was playing cards when the ship struck the iceberg. Similarly, several accounts tell us that he played a role in the loading and lowering of lifeboats, keeping passengers calm and keeping order – before spending time with John Jacob Astor and with duty done, possibly even calmly returning to his card game before the vessel went under. According to survivor Renee Harris: "Major Butt helped … frightened people so wonderfully, tenderly, and yet with such cool and manly firmness. He was a soldier to the last.".
Both Butt and Millet sadly perished in the disaster, with the Major's remains never being located. However, media reports of the sinking would portray him as a hero and he was remembered as such by friends, family and the nation at large. Some 1500 mourners attended a memorial service held at the family home – among them president Taft himself – and though severely grief-stricken over the loss of his friend he would speak both at this service and a similar gathering in Washington. Taft would also chair the committee responsible for the building of a memorial to the two men and make the first contribution to fund what would become the Butt-Millet Memorial Fountain, which stands today towards the north west corner of the Ellipse in the heart of Washington D.C. – almost as close as you can get to the White House itself, and not far west of the National Christmas Tree. A cenotaph was also built on a spot previously selected by the Major in Arlington National Cemetery, while In his home town of Augusta the recently-refurbished Butt Memorial Bridge bears the name of this exemplary patriot, soldier, and human being.