Salute To Service – U.S.S. Augusta, Part One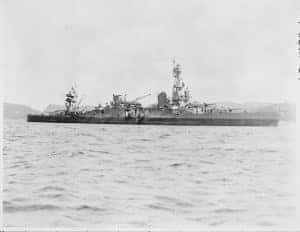 Many of the local military figures we've featured so far in our 'Salute to Service' series have been honored by having something in Augusta named after them in commemoration of their service. Instead, today's subject was named by the military in honor of the entire city, and that dedication was made well before she began her duty in service of this country. Still, she performed that duty admirably, and did the name of Augusta proud throughout her 28-year military career – so without further ado, the Bob Richards Blog now brings you the story of the United States Ship Augusta (CA-31).
The Augusta's story begins in December 1924 when she was first ordered by the U.S. Navy, with the contract for her construction being awarded to Newport News Shipbuilding in Virginia two-and-a-half years later. They would build the vessel at a cost of just over 10 million dollars, and that process began with the laying of the Augusta's keel on July 2, 1928. Still, it would be another 18 months before she left dry land for the first time, and even when her hull slid into the waters of the Virginia coast on February 1, 1930, a further year of construction and shakedown testing lay ahead. Sponsored by Miss Evelyn McDaniel and named for her hometown, Augusta was finally commissioned and officially became part of the Navy fleet on January 30, 1931. Originally designated as a light cruiser she was given the hull number CL-31, but her 8-inch guns would fall afoul of the London Naval Treaty, which stated that light cruisers could have guns no larger than 6.1 inches. Thus, once the treaty came into force in 1931 she was reclassified as a heavy cruiser – thereby permitting her 8-inch guns – and her hull number was accordingly adjusted to the one she would bear for the rest of her life: CA-31.
The Northampton-class U.S.S. Augusta's first assignments were fleet exercises and drills as part of Scouting Force, during which time she also served as flagship for Scouting Force commander, Vice Admiral Arthur L. Willard, and began a tradition of playing host to those in the upper echelons of command. Following a transfer to Asian waters in 1933 Augusta became the flagship of Admiral Frank B. Upham, Commander in Chief of the Asiatic Fleet (CinCAF), based at Shanghai. Her duty with the Asiatic Fleet saw Augusta take in Admiral Upham's successors as CinCAF, regularly touring Asian and Australasian ports of call from Vladivostok to Perth, according to the CinCAF's diplomatic and ceremonial obligations and schedule at the time. While serving in the Pacific she would also undergo an annual overhaul at Cavite and Olangpo in the Philippines, and was nicknamed "Augie Maru" by her crew – "Maru" being a Japanese word that is often used in the names of Japanese vessels, and which can also be used to denote an affection or fondness for the thing it is applied to.
Augusta's first taste of war would come with Asiatic Fleet in the summer of 1937. She was moored in Tsingtao conducting training at the start of the 2nd Sino-Japanese War – and in light of developments made for Shanghai as soon as possible. Upon Augusta's arrival she was greeted by the sight of Japanese naval assets along the Huangpu River, and the news that a battle for the city was underway between the Japanese and Chinese forces. During the Battle of Shanghai Augusta's Marine detachment aided the 4th Marine Regiment in protecting the neutrality of the Shanghai International Settlement, and Navy personnel helped protect American evacuees as they were ferried down the Huangpu to waiting merchant ships. As the battle continued over the weeks to follow, Augusta moved to a more central mooring on Shanghai bund – a prime position to observe the tactics, equipment and overall capability of the Imperial Japanese Navy, and CinCAF Admiral Harry E. Yarnell duly sent such intelligence reports back to Washington – however, despite U.S. neutrality the ship was still standing into danger. Only a few days earlier, while still at her old mooring further down the Huangpu, Augusta had been misidentified as a Japanese vessel by the Chinese Air Force and bombed. While the bombs narrowly missed on that occasion, her luck would run out on August 20 when she was struck by a stray Chinese anti-aircraft shell, killing one seaman and wounding a further 18.
Despite the conflict, Augusta's routine of port calls (now more localized around China) and the annual overhaul in the Philippines continued under new CinCAF, Admiral Thomas C. Hart. Indeed, the heavy cruiser was in Shanghai when WW2 broke out in Europe, and around a year later was ordered to Long Beach for a refit and reassignment to the Atlantic Fleet. She would continue her illustrious exploits in the Atlantic and Mediterranean theaters, and that is where we will be next week – as we continue and conclude the story of the U.S S. Augusta.
Sources:
'Armistice of 22 June 1940' at Wikipedia: https://en.wikipedia.org/wiki/Armistice_of_22_June_1940
'Atlantic Charter' at Wikipedia: https://en.wikipedia.org/wiki/Atlantic_Charter
'Battle of Shanghai' at Wikipedia: https://en.wikipedia.org/wiki/Battle_of_Shanghai
'Chinatown Reversed: The Shanghai International Settlement' at Throughout History: http://www.throughouthistory.com/?p=1790
'French Navy' ('Second World War' section) at Wikipedia: https://en.wikipedia.org/wiki/French_Navy#Second_World_War
'George S. Patton' ('North African Campaign' section) at Wikipedia: https://en.wikipedia.org/wiki/George_S._Patton#North_African_Campaign
'Marco Polo Bridge Incident' at Wikipedia: https://en.wikipedia.org/wiki/Marco_Polo_Bridge_Incident
'Naval Battle of Casablanca' at Wikipedia: https://en.wikipedia.org/wiki/Naval_Battle_of_Casablanca
'Second Sino-Japanese War' at Wikipedia: https://en.wikipedia.org/wiki/Second_Sino-Japanese_War
'Shanghai International Settlement' at Wikipedia: https://en.wikipedia.org/wiki/Shanghai_International_Settlement
'USS Augusta' at World War II Database: https://ww2db.com/ship_spec.php?ship_id=294
'USS Augusta (CA-31)' at Military History Encyclopedia on the Web: http://www.historyofwar.org/articles/weapons_USS_Augusta_CA31.html
'USS Augusta (CA-31)' at Wikipedia: https://en.wikipedia.org/wiki/USS_Augusta_(CA-31)
'USS Augusta was Navy Flagship' at Augusta Chronicle (online): http://chronicle.augusta.com/stories/1999/09/29/met_271677.shtml#.Wa0wOsiGNPY