Salute To Service – U.S.S. Augusta, Part Two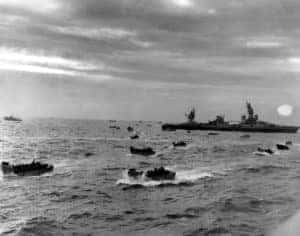 Welcome back folks, as the Bob Richards Blog continues the story of the U.S.S. Augusta – a heavy cruiser that served in defense of our country and America's allies before, during, and after WW2. When part one ended, Augusta had just been ordered back to the U.S. for a refit and transfer to the Atlantic Fleet, following years of duty as flagship of the Asiatic fleet and two near-misses while observing developments during the Battle of Shanghai.
The U.S.S. Augusta that arrived for refit – while by no means neglected – had suffered somewhat from being in Asia and was no longer the state of the art piece of equipment she was when she arrived in the Far East. As aircraft carriers and naval air power became more and more important to battles at sea, the armaments and early-warning and detection systems used to counter or evade such attacks also became key elements of a ship's arsenal. Thanks to a significant increase in her anti-aircraft capabilities and preparatory work for the later installation of RCA CXAM-1 radar, by the time she left Mare Island Naval Shipyard on April 11, 1941, Augusta was back to her best and would soon be equipped to handle anything modern warfare could demand of her.
And yet, not everything that her country would ask of her…
While serving as flagship for Commander-in-chief, Atlantic (CINCLANT) Admiral Ernest J. King, Augusta was selected for special duty and sailed to New York Navy Yard. There she would have her radar installed and undergo further tweaks to her anti-aircraft guns in order to complete the refit work started in California – but that wasn't all. Augusta's 'special duty' was the transportation of President Roosevelt to and from Newfoundland as he attended a conference with British Prime Minister Winston Churchill – and in preparation for the task bulkheads were widened, a basic elevator was added and other changes were made that would allow the President to more easily move about the ship. The modifications would be put to the test later that summer as Augusta, U.S.S. Tuscaloosa and a group of other U.S. Navy vessels sailed for Canada to meet H.M.S. Prince of Wales and her ministerial passenger. Prince of Wales arrived August 9, 1941, and for the next 3 days Roosevelt, Churchill and their respective entourages were engaged in official ceremonial duties and conferences on the war in Europe. The fruit of these discussions would be the document known as the Atlantic Charter, which was issued jointly by both countries on August 14 – the last day of the President's time aboard Augusta –who returned to her regular patrols in the north Atlantic upon successful completion of her special duty, until war one again came calling just a few weeks later.
The beginning of WW2 was fairly quiet for Augusta, as she was assigned to a range of training, patrol and submarine screening duties. That would change in October 1942 when she joined Task Force 34 for Operation Torch, the allied landings in North Africa. During Torch, Augusta would welcome another auspicious passenger as she transported General George S. Patton (who would be in overall command of the ground troops' Western Task Force) across the Atlantic and served as his base of operations in the early hours of the landings, which were contested by Vichy French forces. As a result, possibly for the first time in her career, Augusta fired shots in anger – with her targets being the French vessels based at the port of Casablanca and the shore batteries that defended it. Casablanca surrendered 2 days after the landings on November 10th, with Augusta – along with her cohorts U.S.S. Brooklyn, U.S.S. Tuscaloosa, U.S.S. Massachusetts and U.S.S. Wichita – defending, supporting and protecting the various landing craft and troop ships from the very start of the action at midnight on the 8th, until a cease-fire was signed between the opposing forces on the 11th.
After Operation Torch, Augusta spent 1943 engaged in training exercises and convoy escort duty, doing her part to keep Britain – the last Allied bastion in Europe – fed and armed as they continued to resist German invasion. However, the tide of the war began to turn thanks to Torch's success and the victories in Africa and Italy that it paved the way for, and it wouldn't be long before Augusta was again present as pivotal events in the war took place. As May turned to June in 1944, she was just one part of the huge Allied force assembled for Operation Overlord, leaving Portsmouth for the Normandy coast on June 5th. In many ways the events of Overlord told the tale of Augusta's career in microcosm, as her history repeated itself in a number of ways – during Overlord she once again played host to a well-known army officer (this time Lieutenant General Omar Bradley), once again she turned her guns on the enemy's shore defenses above the Normandy beaches as the Axis contested the Allied landings, and once again she was targeted and narrowly missed by bombs.
Augusta's final battle of WW2 would come with her role in Operation Dragoon – the invasion of Vichy France, which had by that time been occupied by the Germans. She was assigned the same task she had performed during operations Torch and Overlord, and is said to have fired over 700 rounds at shore batteries and inland targets in support of the Dragoon landings, most notably against the forts on the island of Port-Cros. With the success of the landings assured and the enemy gradually surrendering, Augusta sailed home to American waters on August 30, 1944 for an overhaul – her last combat role fulfilled but her duty not yet complete. Before the end of the war her past would once again become her present, as Augusta was tasked with the safe delivery of President Truman to Antwerp, (en route to Potsdam for the Potsdam Conference) and she was also involved in Operation Magic Carpet – the organized return of U.S. troops to home soil following the Allies victorious effort.
Augusta finally met her fate in 1959 when she was sold for scrap, but a remarkable life and career that saw her serve on both sides of the world, be present at key moments in world history and welcome a succession of admirals and other V.I.P's including celebrated army officers, two presidents, one prime minister, and even a king (King George VI of Great Britain dined aboard Augusta in 1944) are certainly worthy of celebration, and only adds to the pride we take in serving the people of the city after which she was named, and its surrounding communities.
Sources:
'Armistice of 22 June 1940' at Wikipedia: https://en.wikipedia.org/wiki/Armistice_of_22_June_1940
'Atlantic Charter' at Wikipedia: https://en.wikipedia.org/wiki/Atlantic_Charter
'Battle of Port Cros' at Wikipedia: https://en.wikipedia.org/wiki/Battle_of_Port_Cros
'French Navy' ('Second World War' section) at Wikipedia: https://en.wikipedia.org/wiki/French_Navy#Second_World_War
'George S. Patton' ('North African Campaign' section) at Wikipedia: https://en.wikipedia.org/wiki/George_S._Patton#North_African_Campaign
'Naval Battle of Casablanca' at Wikipedia: https://en.wikipedia.org/wiki/Naval_Battle_of_Casablanca
'Operation Dragoon' at Wikipedia: https://en.wikipedia.org/wiki/Operation_Dragoon
'Operation Torch' at Wikipedia: https://en.wikipedia.org/wiki/Operation_Torch
'Port-Cros' at Wikipedia: https://en.wikipedia.org/wiki/Port-Cros
'USS Augusta' at World War II Database: https://ww2db.com/ship_spec.php?ship_id=294
'USS Augusta (CA-31)' at Military History Encyclopedia on the Web: http://www.historyofwar.org/articles/weapons_USS_Augusta_CA31.html
'USS Augusta (CA-31)' at Wikipedia: https://en.wikipedia.org/wiki/USS_Augusta_(CA-31)
'USS Augusta was Navy Flagship' at Augusta Chronicle (online): http://chronicle.augusta.com/stories/1999/09/29/met_271677.shtml#.Wa0wOsiGNPY