Salute To Service- Rodney M. Davis
Salute To Service – Rodney M. Davis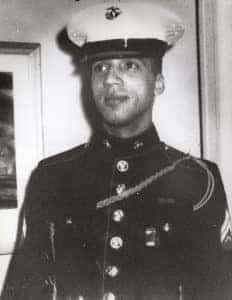 The Vietnam War was a unique conflict in human history – not only did it polarize opinion here at home, but in the field, America's soldiers had to deal with a number of circumstances that served to make the already hard task of waging war even harder. Taking on a determined foe on his ground – a highly lethal environment in which the steaming jungles of Southeast Asia sometimes seemed trained to fight them too – was a tough task, but hundreds of thousands of men stepped forward to do their duty in the fight to defend freedom and liberty, and in the process a select few would mark themselves out as heroes. One of those heroes was Marine Sergeant Rodney M. Davis, and it's his story that we bring you today.
Rodney Maxwell Davis was born in Macon, GA on April 7, 1942. He joined the Marine Corps shortly after graduating high school and like all prospective Marines from east of the Mississippi, reported to South Carolina and Marine Corps Recruit Depot Parris Island for recruit training – arriving in August 1961 at the age of 19. He completed this first step in December of that year and after three months of combat training at Camp Lejeune, NC, Davis joined the Fleet Marine Force as a rifleman with 2nd Marine Regiment. Later in the decade, he would serve a three-year tour of duty in London, England, but while he was across the Atlantic an already tense status quo in Vietnam worsened, and following the Gulf of Tonkin incident, President Lyndon B. Johnson sent American ground forces into that country.
Davis joined the growing American deployment in Vietnam in August 1967, serving with Bravo Company, part of the 5th Marine Regiment's 1st Battalion (A.K.A. '1/5 Marines'). He arrived in time to take part in 'Operation Cochise', the third phase of a larger campaign comprising Operations "Union" and "Union II' earlier in 1967, whose goal was to drive the North Vietnamese out of the Que Son Valley – a strategically important, well populated and food-bearing basin seen as a crucial asset in asserting control over the northern part of South Vietnam. Though it didn't turn out to be as resounding a victory as US and ARVN forces had hoped it would be, Operation Cochise did succeed in making the North Vietnamese take a backwards step, and as August turned to September 5th Marines were performing patrols and sweeps in the area to reassure and protect the local populace.
The situation changed on the morning of September 4th however, when Delta Co. 1/5 Marines were attacked while they were still in their overnight defensive perimeter near the village of Dong Son. In response, the 1st Battalion commander sent Bravo Co. to their aid, and while Bravo Co. did reach their comrades both companies were pinned down and heavily engaged. Kilo and Mike Companies from 3rd Battalion, 5th Marines were dispatched to assist Bravo and Delta, but around 1500 meters from their objective both of these units also encountered heavy resistance and could not advance further. Air support and supply drops became the Americans' lifeline at this point and enabled them to hold on until September 5th, when a company of fresh Marines counterattacked at dawn and forced the enemy to fall back.
This counterattack marked the official start of 'Operation Swift', but the relief it brought only lasted until the afternoon of September 6th, when the 1st Vietcong Regiment attacked Bravo Co. and Sgt. Davis again. Bravo was nearly overrun as a result but held on to their defensive position after a friendly helicopter dropped CS gas onto the battlefield. Believing this to be a more deadly chemical agent (or that such retaliation was coming), the Vietcong broke off their attack and waited for the gas to dissipate – however, the assault was never resumed before they withdrew at 0200 the next morning. Later, on September 7th a map was found on one of the fallen attackers, and the intelligence it offered will surely have helped the Marines and their colleagues during the next phase of the operation as American forces continued their advance through the valley, making regular contact with North Vietnamese combatants in the days that followed and discovering a cache of supplies. By the time Operation Swift concluded on September 15th the Americans had seized the entire southern half of the Que Son Valley and begun establishing a larger and more permanent presence in the area – to consolidate the ground gained and eliminate the enemy's perception of the Que Son Valley as a weak point in the US / ARVN defensive strategy.
Sadly, Sgt. Davis could not be a part of this final victory, having been killed while fighting from a trench on September 6th. However, he is said to have led by great example as Bravo Company defended against the Vietcong, moving up and down the line shouting words of encouragement to the men of his platoon and directing their fire, while also firing his own weapon and throwing grenades to stave off the assault. At some point during the battle, he made the ultimate sacrifice for his fellow Marines, throwing himself on an enemy grenade that had landed in the trench. For this brave and selfless act he was posthumously awarded the Medal of Honor, with the citation for his award remarking: "Through his extraordinary initiative and inspiring valor in the face of almost certain death, Sgt. Davis saved his comrades from injury and possible loss of life, enabled his platoon to hold its vital position, and upheld the highest traditions of the Marine Corps and the U.S. Naval Service. He gallantly gave his life for his country."
Davis was subsequently repatriated and laid to rest at the historically African-American Linwood Cemetery near Macon, and though his family did their part to look after his final resting place the cemetery needed more care and maintenance than they alone could give. As time went on it fell into a state of disrepair and overgrowth until a group of Marine veterans – among them a man who credits Davis with saving his life during the war – visited the site around 2010. Lamenting the situation in which they found their fallen comrade they brought the matter to the attention of the 1/5 Marines Association – who together with friends, family and others with ties to the Marine Corps or the community raised some $60,000, and set about restoring the cemetery. Sgt. Davis' old wooden monument was replaced with a large stone obelisk and seating area in 2012, and over the years a continued effort has seen a large number of headstones and other memorials dedicated to those interred at Linwood also reclaimed from the undergrowth. That effort continues to this day through regular volunteer gatherings and other celebrations, at which the community comes together to tend the grounds, remember and pay their respects, and celebrate the exemplary human qualities that Sgt. Rodney Maxwell Davis demonstrated so well.